I love this photo because if you were to imagine the stereotypical look for witches in the 1800s, this is exactly what you'd conjure up. (That's right, conjure.)
I found this on Pinterest — it's only labeled "Witches 1875." I did a Google image search to find the origins of this photo, but it mostly led me to more Pinterest pins with the same caption. One labeled it a tintype.
I can't find anything on these ladies.
My instinct was these were actual practicing witches. Then I showed it to my husband, and he declared it too perfect — these were ladies dressed up as witches. And I said, But they look so serious! And he said, They're in character. And so on.
And then I noticed one of them has a feather duster and a dustpan, which seems odd. Did she not have access to a full broom? Or maybe the feather duster had some significance to Victorian witches. Does the feather duster make her more or less likely to be a real witch?
And I don't even know what's in the lap of the middle ladies. Maybe a bird. I hope it's alive, but I'm not holding my breath.
The backdrop seemed theater-y to me as well, but I've come across tintypes with these vague natural backdrops before. In fact, here's a series of photos with a bunch of "occupational tintypes." Perhaps the women in my photo are in the business of witchcraft?
If you search for "Victorian witches" on Google, it delivers a fair amount of both similar and not-so-similarly clad ladies. I think we can all agree that this lady is definitely not a witch.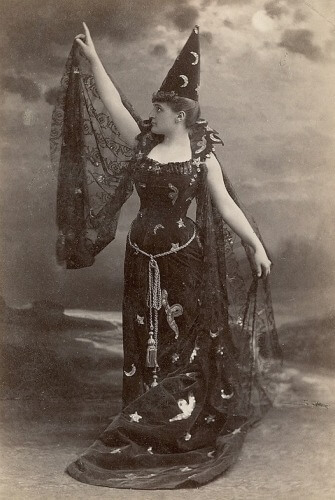 She's either a theater geek, or she's going to a fancy dress party as the world's most melodramatic witch.
But what about the women in the top photo: Real witches or fake? What do you think?
And if you have any insight into the photo, please tell us about it! I'm dying to know!
P.S. You might also enjoy t 10 Sexy Vintage Halloween Costumes and Frankenstein having tea.
P.P.S. More fun retro photos here.
It's good etiquette to share what you like!