I made a royal rookie mistake when I first wrote about the wedding of Catherine Middleton and Prince William. I assumed because Kate married a prince, she was now Princess Catherine, but I was wrong. Her official title, given to her by Queen Elizabeth, is:
Her Royal Highness The Duchess of Cambridge, Countess of Strathearn and Lady Carrickfergus.
It's a mouth-full, and the word "princess" is no where to be found. Also, Carrickfergus! Ha!
Lately I've noticed publications referring to Princess Kate, and even mention of her becoming queen, especially with Spain's Princess Letizia Ortiz on the fast-track to queen.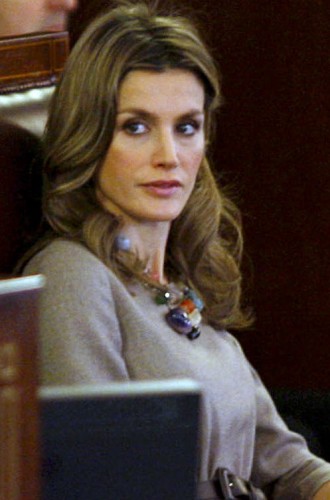 That's her: Yeah, I'm gonna be queen. And you displease me. face.
As for the the confusion around Kate's title, that's fair enough, as this is confusing stuff. But Queen Kate/Catherine won't necesarily happen. The rules of British hierarchy aren't clear-cut, so I've tried my best to sort them out. Some facts of note.
A spouse does not automatically get an equivalent title to the royal they marry, though some royal experts say there's historical precedent that the woman takes the title rank of her royal husband.
The husband of the current Queen of England is not a king. His title is Prince Philip, Duke of Edinburgh. For some reason, husbands of monarchs have no rights to a title, and Prince Philip, who was born a prince, lost the title of prince when marrying Elizabeth for a time. Eventually, she officially gave him the title of "prince." And for fun, here they are on their wedding day!
Prince Charles' wife, Camilla, currently isn't a princess either. Her full title is Her Royal Highness The Duchess of Cornwall, Duchess of Rothesay, Countess of Chester, Dame Grand Cross of the Royal Victorian Order.
It has been declared that Camilla will take the title Princess Consort if Prince Charles becomes king. For the record "consort" means "spouse or companion."
Diana Spencer, Charles' first wife, was the Princess of Wales, yet the popular styling of "Princess Diana" is technically incorrect. It sounds like this title has to be given to you, like all other titles. You can't just move the title "princess" from the end of your name to the beginning.
In general, you need to be born a princess. The queen can bestow the title of "princess" on you, but it doesn't appear to be her preference.
Just to confuse things, Kate Middleton listed her occupation on the birth certificate of her son as "Princess of the United Kingdom" because she's entitled to use the name of her husband. So you could call her

Princess William of Wales — this is why she can also be Princess of the United Kingdom according to Buckingham Palace, which doesn't sound like the same thing to me, but oh well — but they make a point to say she's still not Princess Catherine. There's some chatter that maybe Prince William decided Catherine is a princess, and put it on baby George's birth certificate to push the issue.

Currently, the wife of a king becomes queen consort, but there's a general push for all females spouses of kings to become princess consort. It looks like the latter might likely be Kate Middleton's title too.
I determined all this from a lot of Googling. I tried to be as accurate as possible, but I wouldn't be surprised if I misunderstood something along the way. So if you're a royal expert, by all means, please correct me in the comments!
Information sources: Is Kate Middleton a Duchess or a Princess?, Why Kate May Never Become Queen, Kate Middleton: Why Be a Duchess When You Can Be a Princess? and Why Buckingham Palace should apologise for misleading the world on 'Princess Kate'
Photos via Wikipedia entries for Catherine, Duchess of Cambridge , Letizia, Princess of Asturias CC BY-SA 3.0) as well as How the Queen lost her heart slow dancing to a show tune from Oklahoma!
It's good etiquette to share what you like!