You have no idea how many of our wedding traditions come from royals. One of the biggest ones: the white wedding dress. So we're going to take a look at royal wedding dresses through the decades.
The subtitles will include the date of the wedding and the names the brides are most commonly known by, but I'll share full names in the text because full royal names are too awesome not to include.
Let's dig in!
1840: Queen Victoria

We're going to start with Queen Victoria for two important reasons: 1. She was the one who started the white wedding dress trend that's still popular today 2. She was one of the first royals to be photographed.
Born Alexandrina Victoria, which is an unusually succinct royal name, Victoria became Queen of the United Kingdom of Great Britain and Ireland in 1837 at age 18 and eventually also Empress of India. Being unmarried at the time, she was required to live with her mother. (So odd that she's allowed to rule a nation, but as a single woman, but she musn't live alone.) She met and fell quickly for her cousin Albert of Saxe-Coburg and Gotha, and they married in 1840.
Victoria designed her wedding dress and opted for the color white, which was unusual because it was considered a mourning color at the time.
This photo of Queen Victoria in her wedding attire was taken in 1954, when photographer Roger Fenton did a series of photographs for the royal family. (Pretty impressive that her wedding dress still fit 14 years later.)
1858: Victoria, Princess Royal
Princess Victoria Adelaide Mary Louisa was the eldest daughter of Queen Victoria, and you can certainly see her mother's influence in Victoria's wedding dress (not to mention her resemblance), which is bedecked with orange blossoms galore. Royal wedding dresses were often orange blossomed out because the flower symbolized both purity and fertility, which seems nearly at odds, but I guess not quite.
She became engaged to Prince Frederick William of Prussia when she was 14 and he was 24. (Yikes!) They were married when she was 17 in 1858 in what was considered both a love match and a dynastic alliance. She eventually became Her Imperial and Royal Majesty, The German Empress, Queen of Prussia, but sadly her husband died of throat cancer 99 days after taking the throne.
1863: Alexandra of Denmark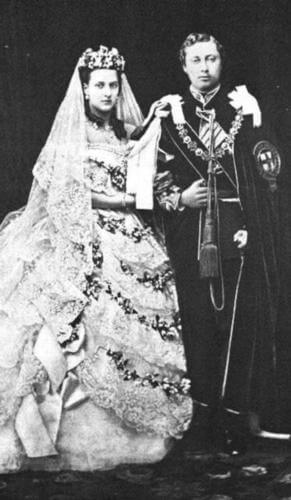 Princess Alexandra Caroline Marie Charlotte Louise Julia was known as Alix to her family, and although they were royal, they weren't wealthy. Her father, Prince Christian, brought in £800 a year from his army commission. He was a surprise choice to succeed as King of Denmark.
Alexandra was one of many young women considered as a match for Albert Edward, the Prince of Wales, by Queen Victoria and Prince Albert. She wasn't their top choice, but after other ladies proved to be unsuitable for various reasons, the British monarchy settled on her.
So romantic.
The two married in 1863 when Alexandra was 18 years old. Her confection of a dress was quite famous at the time, her photo in it being widely distributed. It even has its own Wikipedia page! It has four flounces and lots of lace, and you can see that the orange blossom trend is still in full effect here. It was very inspired by Queen Victoria's dress.
Upon marriage she became Princess of Wales and eventually Queen Consort of the United Kingdom of Great Britain and Ireland and Empress Consort of India.
1875: Princess Amalie of Saxe-Coburg and Gotha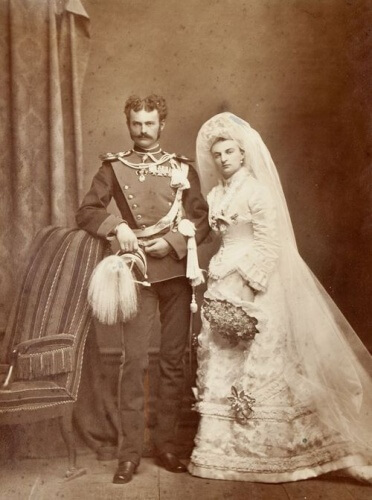 The dress of Princess Marie Luise Franziska Amalie of Saxe-Coburg and Gotha is a fair bit less ornate than her royal counterparts above. She is pictured here with her husband Duke Maximilian Emanuel in Bavaria (and his amazing hair) on their wedding day in 1875, when she became Duchess in Bavaria.
In fact, the princess had originally been promised to Prince Leopold of Bavaria, but the duke became enthralled with her. So Maximilian's sister, Empress of Austria, did her best to muck things up for Leopold and Amalie, so her brother could have what he wanted. It worked.
As a side note, why are some titles "in Bavaria" and others "of Bavaria"? Is it a Bavarian thing?
The couple is thought to be a happy one.
1884: Princess Elisabeth of Saxe-Altenburg
Princess Elisabeth Auguste Marie Agnes of Saxe-Altenburg married Grand Duke Konstantin Konstantinovich of Russia in this wedding gown in 1884. She became Grand Duchess Elizaveta Mavrikievna.
The dress is described as having "Russian sleeves," which are sleeves that are part of the train. You can get a better look at sleeves in this style in this image of an 1839 Russian maid of honor.
This sentence about the couple from Wikipedia cracked me up: "The marriage was a success, although Grand Duke Konstantin secretly kept male lovers." So what constitutes a success?
1893 Mary of Teck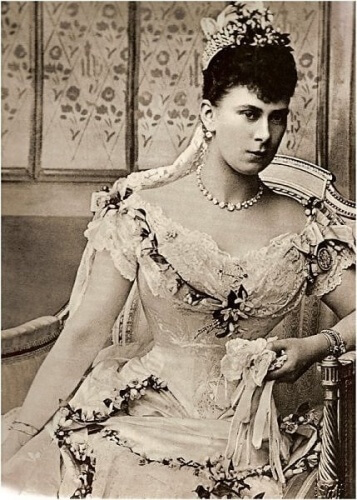 Victoria Mary Augusta Louise Olga Pauline Claudine Agnes was known simply as Mary of Teck before marriage. She was a Princess of Teck, in the Kingdom of Württemberg, which sounds made up but is not. The Kingdom of Württemberg was a German state until 1918 — Albert Einstein was born there.
Mary of Teck married Prince George, Duke of York, in 1893 in this very fitted dress. She's holding on to white gloves, and the orange blossom design goes down in lines around her dress. When her husband became King-Emperor, she became Queen consort of the United Kingdom and the British Dominions, and Empress Consort of India.
Wikipedia deems this marriage a success as well, noting that unlike his father, George never took a mistress.
1900 Duchess Marie Gabrielle in Bavaria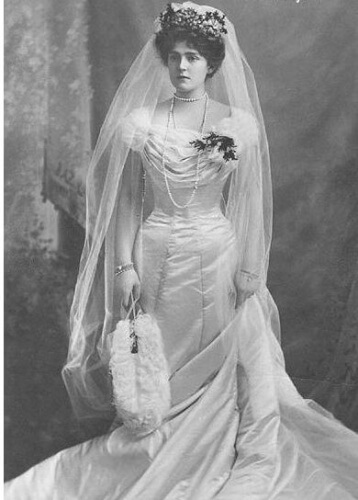 Duchess Marie Gabrielle Mathilde Isabelle Therese Antoinette Sabine Herzogin in Bavaria is the daughter of Karl-Theodor in Bavaria, both a duke and a world-renowned ophthalmologist. (Can you imagine going to your ophthalmologist, the Duke?) Her mother was the daughter of the exiled monarch of Portugal.
She married Prince Rupprecht of Bavaria in 1900 and became Her Royal Highness Princess Rupprecht of Bavaria, Duchess in Bavaria.
Is she carrying a giant feather? I hope so.
1911: Zita of Bourbon-Parma
This bride may have the most amazing name yet: Zita Maria delle Grazie Adelgonda Micaela Raffaela Gabriella Giuseppina Antonia Luisa Agnese. She was known as Zita of Bourbon-Parma and was the 17th child of the 24 children of the deposed Robert I, Duke of Parma and his second wife, Maria Antonia of Portugal. Her father was deposed when Italy was unified into a single Kingdom of Italy.
Zita married Archduke Charles of Austria-Este in 1911 in this very demure dress. He eventually became Emperor and she the last Empress of Austria, Queen of Hungary, and Queen of Bohemia. They too were deposed.
They lived in exile in Switzerland. Charles eventually died of pneumonia when he was 34 and Zita was 29 — his last words to her were, ""I love you so much." She wore mourning black the rest of her sixty-seven years and never remarried.
An asteroid is named after her.
1926: Astrid of Sweden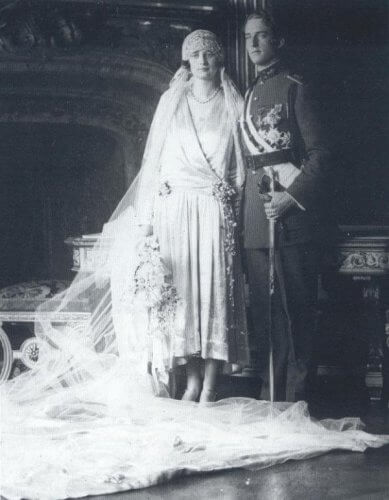 Princess Astrid Sofia Lovisa Thyra of Sweden was known as Astrid of Sweden. She and Crown Prince Leopold of Belgium married for love in 1926. They frequently held hands in public. Belgians loved them.
A tidbit that surprised me: Her dress doesn't reach the floor. I assume we're seeing boots and not actual leg, but still, surprising considering how conservative royal wedding dresses typically are.
Astrid became Queen Consort and Leopold King when his father died in a mountain-climbing accident. Astrid died at age 29 in a car accident. Her husband issued the Astrid Mourning stamp, her portrait in black, to honor her.
1938: Geraldine of Albania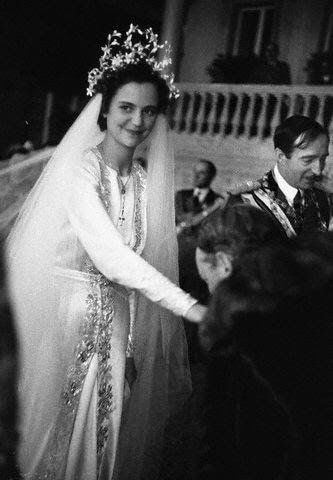 When I couldn't find a decent photo of the this dress, I decided I didn't care. The crown of flowers (I think) was too amazing not to share.
We have here Countess Géraldine Margit Virginia Olga Mária Apponyi de Nagy-Appony who married King Zog I, of the Zogu dynasty of Albania, and became Queen Geraldine of the Albanians.
Her story is especially interesting. She was born to a Hungarian Count and a wealthy American who was a distant cousin of both Richard Nixon and Robert Frost. The Empire of Austria-Hungary eventually collapsed, and the family left to live in Switzerland. Her father died, her mother remarried, and the family fortune dissipated. Geraldine eventually worked as a shorthand typist.
King Zog became beguiled with Geraldine when he saw photos of her from a debutante ball. His sister approached Geraldine on the King's behalf, and days later Zog, a Muslim, and Geraldine, a Catholic, were engaged.
She was named Princess Geraldine of Albania before marrying Zog in 1938. Zog and Geraldine left in exile one year later. They lived all over: from France to Egypt to South Africa.
Another noteworthy royal wedding of this decade is of Duke of Windsor, formerly King Edward VIII, to socialite Wallis Simpson, which is featured in my previous post on retro brides. I also wrote about them in 5 Great Romances of Awful People Throughout History.
And a Bonus Royal: Queen Elizabeth!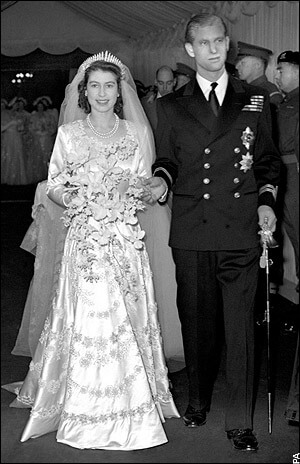 It seems right to end with the current Queen of England Elizabeth II. The dress shape is starting to feel more familiar, no?
Born Princess Elizabeth Alexandra Mary, she married Prince Philip of Greece and Denmark in 1947. Before marrying, Philip renounced his Greek and Danish titles and became a British citizen, which Elizabeth's family preferred, as the Greek royal family had been exiled and the Danish one had German ties. He was named Duke of Edinburgh, and the two received a whopping 2,500 wedding gifts!
Elizabeth is currently the oldest reigning monarch alive.
Got a favorite royal or favorite dress?
You may also enjoy checking out these engagement rings through the years. (Or maybe poison rings are more your style?) And there's more retro fun on my Retro Royals and Retro Brides Pinterest boards.
If you're interested in keeping up with Retroette, you can do so here.
It's good etiquette to share what you like!