I got a few fun books for Christmas, thanks to my recently retired mom who now has plenty of time to find old etiquette books for me. (Thanks, Mom!) They include the 1975 edition of Emily Posts' Etiquette. Her 1939 book called 101 Common Mistakes in Etiquette — And How To Avoid Them, which I've already written about once. My favorite is the very delicate, very slim Every Day Problems in Etiquette from 1922, by Carolyn Nunder.
Ms. Nunder doesn't have a Wikipedia page, so I know nothing about her. As far as I can tell, this is the only book she wrote, which coincidentally came out the same year that Emily Post's first etiquette book was released.
As you can see, this book includes little drawings. The one above goes with the quote below.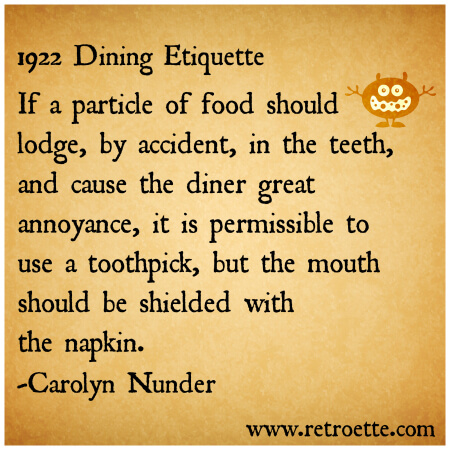 I like the use of the phrase "by accident." Do some people lodge food in their teeth on purpose?
All kidding aside, I think this is solid advice. If you can't get to a bathroom, you probably should conceal that you're fiddling with your teeth at the dinner table.
It's good etiquette to share what you like!