This infographic is neat: It's the really expensive engagement rings of famous people — from Grace Kelly to Kim Kardashian! I was surprised how unusual many of these were.
I picked out two that piqued my interest in particular. First, the ring Napoleon Bonaparte gave Marie Josèphe Rose Tascher de La Pagerie de Beauharnais Bonaparte. What a name! Let's just call her Josephine. To be clear, the price you see in the infographic ($948,000) is its 2013 auction price. With two stones of one karat each, the ring is considered "modest" by auction standards.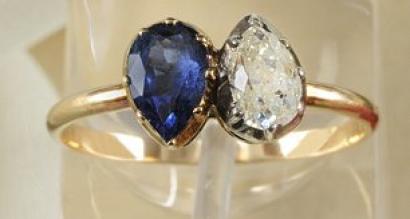 Here's some interesting/surprising/shocking facts:
Empress Joséphine's first husband was guillotoned during the Reign of Terror in 1794. (The Reign of Terror sounds like a truly terrible time to be around.)
So she was a widowed mother of two when she married Napoleon.
She was also 32 years old, six years older than Napoleon, at the time of their marriage.
They divorced when she couldn't produce an heir.
Her daughter married Napoleon's brother. (Whaaaaa?)
And on to the ring of Jackie Kennedy (eventually Onnasis). How did I not know that she had such an unusual engagement ring? And why is it so impossible to find a photo where you can see it on her finger?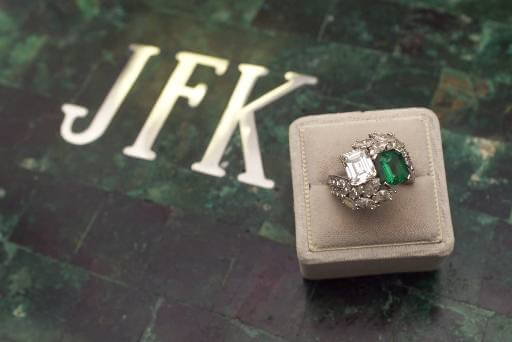 And the facts I've curated:
In 1947, Jackie was dubbed "the debutante of the year."
The original version of the engagement ring was presented to Jackie in 1953 with a 2.88 carat diamond next to a 2.84 carat emerald with tapered baguettes. (Actually, the simpler version of it seems not unlike Josephine's ring. Also, for the life of me, I cannot find a photo of this version of the ring.)
In 1962, round diamonds totaling .66 carats were added to the setting as well as marquise diamonds totaling 1.46 carats, to make what we see in this photo.
Mr. and Mrs. Hugh Dudley Auchincloss issued the invitation to the wedding of Jacqueline Lee Bouvier and "The Honorable John Fitzgerald Kennedy United States Senate," as Jackie's mother Janet Lee Bouvier had remarried attorney and Standard Oil heir Auchincloss by that time.
There were 900 guests at JFK and Jackie's wedding.
For more engagement rings (vintage and otherwise), check out my Engagement Rings Pinterest board!
Image sources in order of appearance: Allurez, Forbes, AP Photo/Charles Krupa
It's good etiquette to share what you like!