I had my (fake) money on Victoria Elizabeth Diana for the royal baby's name, but I was pretty pleased with myself when I heard the name of Prince William and Duchess Kate: Charlotte Elizabeth Diana.
I got the main name wrong, but no matter: two out of three ain't bad!
Now that we know we've got a Princess Charlotte on our hands, let's take a look at some other royal Charlottes that came before her. (Two are pictured above, Queen Charlotte and Charlotte, Princess Royal.)
Queen Charlotte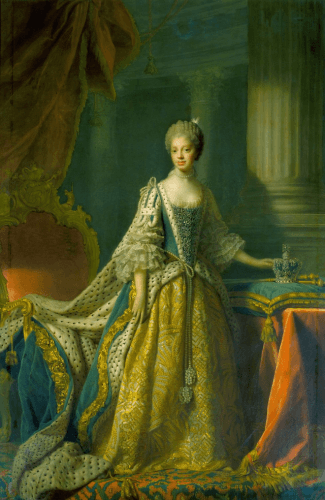 Charlotte of Mecklenburg-Strelitz married King George III in 1761, making her Queen consort of Great Britain and Ireland. She was German and spoke no English when she arrived in England.
Here's something surprising you'll find about Queen Charlotte if you Google her: Some claim she is Great Britain's first black queen. Historian Mario de Valdes y Cocom says her lineage can be traced to a black branch of the Portuguese royal family, although the family's black heritage is also debated. They are descended from Madragana Ben Aloandro of the 13th century, who some believe was Afro-Asiatic.
In fact, our current Queen Elizabeth and her family is descended from Queen Charlotte.
Other noteworthy tidbits on Queen Charlotte: She was pen pals with Marie Antoinette, and her husband went mad.
Charlotte, Princess Royal
Princess Charlotte was the eldest daughter of Queen Charlotte. She married a duke, Frederick of Württemberg, in 1797. When Württemberg became occupied by the French in 1800, they fled for Vienna. Duke Frederick supplied military forces to Napoleon and in exchange, was named King of Württemberg, making Charlotte queen.
The alliance with Napoleon angered Charlotte's father, King George, who refused to address his daughter as "Queen of Württemberg."
Somehow King Frederick was able to switch sides back to the Allies and remain king.
Princess Charlotte of Wales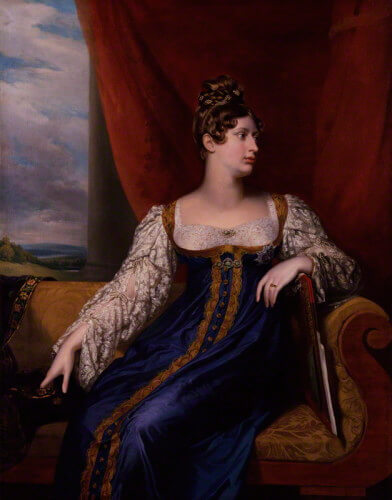 Princess Charlotte was born in 1796 and was the granddaughter of Queen Charlotte. There is an especially detailed Wikipedia entry on Princess Charlotte, who sounds like a bit of a drama queen, but that's not entirely her fault.
Her parents, George, Prince of Wales (later to become King George IV) and Caroline of Brunswick, disliked each other and lived apart just months after they were married. The public hated her father — who at one point when she was 18, forced Princess Charlotte to live in isolation — but the public loved Charlotte, seeing her as the future of Great Britain and a wonderful contrast to the mad king and her mean-spirited father the prince. She did at one point sort of escape from her confinement by running out in the street and hailing a cab. But she directed the cab to take her to her mother's house, so she didn't get far.
She was a tomboy growing up and a little wild, and by the time she was a teen, became easily infatuated with various men. She broke off an engagement to William, Hereditary Prince of Orange. (I'm surprised she was allowed to.) And eventually got her way and married, Prince Leopold of Saxe-Coburg-Saalfeld.
Sadly, she died in childbirth at age 21 and was greatly mourned by Great Britain.
Charlotte of Schaumburg-Lippe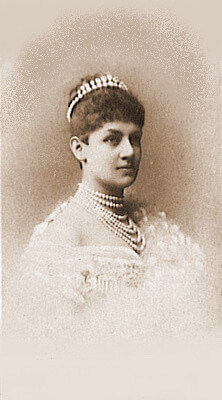 Princess Charlotte of Schaumburg-Lippe became Queen Charlotte of Württemberg when she married King William II of Württemberg in 1886. (So many Württemberg ties for the royal Charlottes!)
While her husband was very popular, Queen Charlotte was not. It may have been her naturally reserved manner or the fact that she bore no children, which was considered a big fail in those days. She also wasn't much for attending public ceremonies, leaving those to her husband.
In 1918, Württemberg's monarchy was abolished. When Charlotte, now a duchess, died in 1946 at age 82, she was the last surviving queen of any German state.
So those are a few famous royal Charlottes. For more royals, check out my retro royal bride post!
It's good etiquette to share what you like!