Iowa Sate's Engineering students laid claim to Saint Patrick's Day and hosted a parade where they drove snake and dragon floats out, like above in 1911. The festivities included a student as St. Patrick and "The Engineer's Lady," which I assume is like being crowned the queen of Iowa State's St. Patricks Day that year. See the 1921 photo below.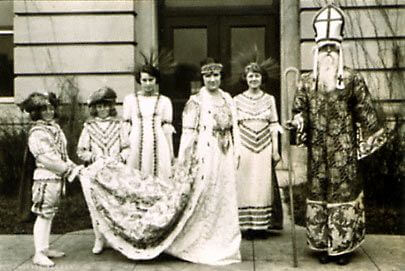 The event was originally created in 1910 as an excuse to get out of class. This eventually became part of a weeklong celebration called VEISHEA, an acronym for the original colleges of the university. The student-run celebration — the largest of its kind — has hosted such distinguished guests as President Truman, John Wayne and Diana Ross. But riots broke out during the event in recent years, and it was suspended as of 2014.
Images and info via Iowa State University Library Special Collections Department
It's good etiquette to share what you like!