It's PROM SEASON!! Did you go to prom? I had such a great time at mine.
A little background on prom:
"Prom" is short for "promenade."
There's evidence that they go back to the late 1800s.
Proms were originally held at universities, not high schools.
It's impossible to find a 1920s prom photo because of the million modern proms with 20s themes. (Just an observation.)
Proms really took off in the 1930s, when the middle class began to embrace them as their version of the debutante ball. This is when they started to be recorded in yearbooks.
And now we're going to do what we do here and look at prom dresses through the years.
1930s Prom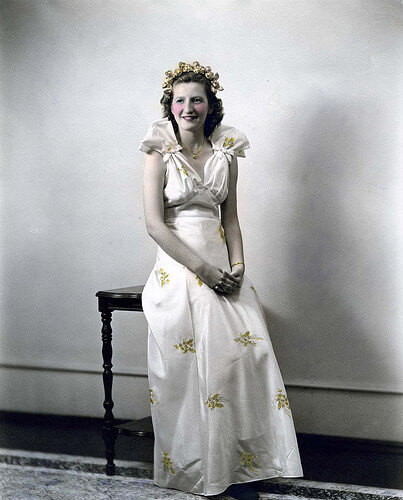 This pretty lady is Evelyn of LaGrange, Ga. We've got a long bias cut gown here, typical for the decade. I suspect the sleeves/straps are unusual but correct me if I'm wrong. And can any eagle-eyed readers tell me what's in her hair?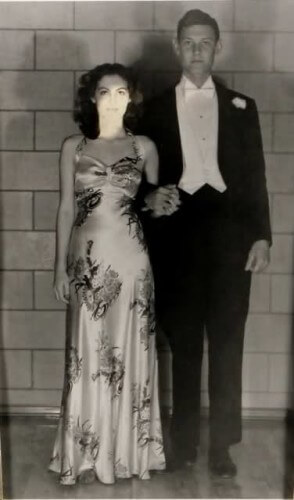 Too bad for the spotlight in her face, but how could I not post a photo of Ava Gardner at prom?
I assume this is in 1939 because that was the year she graduated from high school. I read that soft colors were popular for 30s prom dresses, but there was clearly a floral print trend going on too.
And check out her date in tails!
1940s Prom
Here's something I found interesting: 1940s prom dresses or noticeably more conservative than 30s dresses. We still have long, flowing gowns, but by and large, we also have sleeves and less of an emphasis on the bust.
The polka-dot dress here is my favorite, but I gotta give props to the lady in front who's rocking a velvet-topped dress in spring. She doesn't let seasons hold her back!
Photo courtesy Getty Images
I think this 1947 photo of Betty Bounds really captures something. She's all dressed up anticipating her date, and I really, really hope he showed because she looks concerned.
This photo is from LIFE, and it notes that she has a fake gardenia on her dress but real gardenias in her hair.
This dress is one that will never ever cause you embarrassment looking back at it.
Photo courtesy LIFE and by Nina Leen
1950s Prom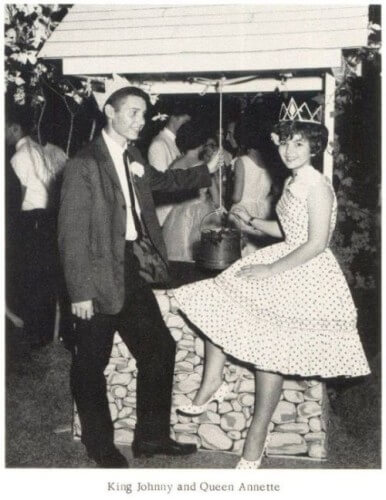 Did the person in charge of buying the prom queen and king crown forget their job? King Johnny's looks like it was cut out of cardboard minutes before presenting it.
On Queen Annette, we have that kicky knee-length dress style that has become so synonymous with our vision of vintage proms. And let's give a shout-out to her shoes with a polka-dot print to match her dress!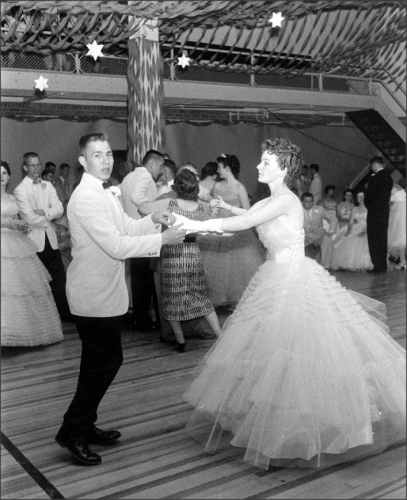 Evidently, the just-past-knee-length prom dress trend was short because I noticed lengths getting longer again come the late 50s. This photo is from 1958. If you look around, you'll notice a lot of these dresses have sweetheart necklines too.
In all honesty, if I had an excuse to wear a dress like this today, I would.
Also of note: We're back to tuxedos after two decades of suits!
1960s Prom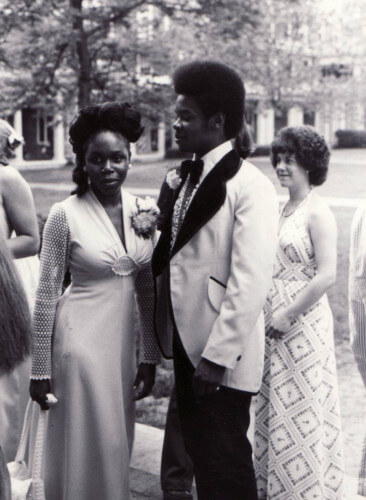 This photo comes from the boarding school Loomis Chaffee. Here prom-goers are gathering in the Quad as is tradition at the school
The dress in the forefront is for sure the most body-conscious dress we've seen so far. I suspect with its mesh sleeves it was unusual for formalwear in this decade.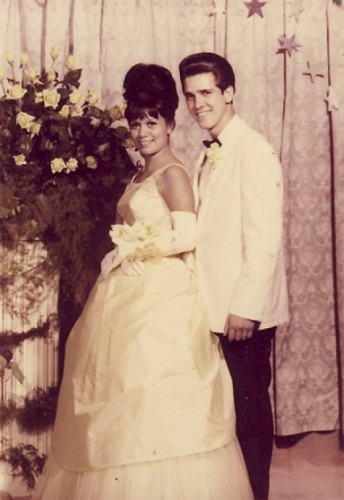 If you Google "vintage prom," you are bound to run into this photo from 1964. It has somehow come to represent 60s proms across the Internet — and this dress does feel like the ultimate 60s prom dress somehow.
We got some major hair action going with both the girl and guy here, and this lemon yellow was an especially popular prom color for the 60s.
1970s Prom Dresses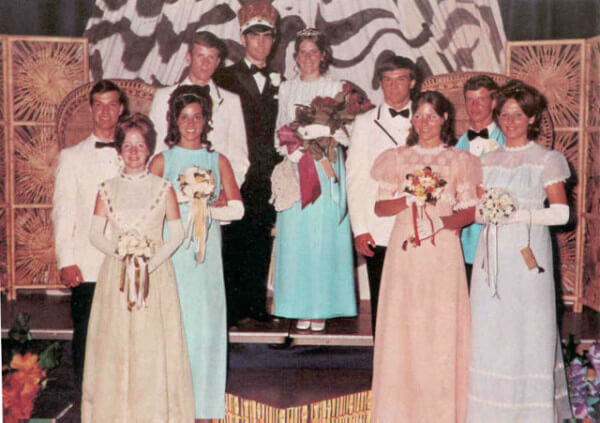 I have many thoughts on this prom court from 1970:
Why is the prom king's crown giant, and the queen's is itty-bitty?
Did they give her a giant bouquet of dead flowers?
I approve of the dress in the front to the left.
The two dresses in the front on the right look like they could be nightgowns for dolls. Or unfortuante bridesmaid dresses.
But the winner of this photo is for sure the guy behind them in the aqua tux.
Btw, the theme for this particular prom was "African Mystique." I am not going to comment further on that.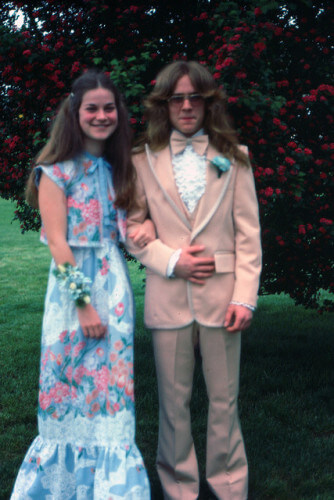 The girl looks very sweet here. In fact, cut that dress to just above the knee, get rid of the little coverlet, and I'd wear that dress today.
Too bad she's being overshadowed by her dude in his peachy-beige tux … with ruffles … and lots of hair.
Got a favorite dress? Be sure to check out these wedding dresses by decade too!
Top photo courtesy The Vintage Inn
It's good etiquette to share what you like!