The Kentucky Derby is nearly here, and you know what that means: HATS!!!
I hear there's a race too, but no matter.
Anyhow, in honor of the Kentucky Derby, I've created this collection of seriously dramatic vintage hats — some ginormous, some cuckoo and others rather elegant.
I put them in chronological order, so you can see how styles change. Enjoy!
The Mother of All Giant Hats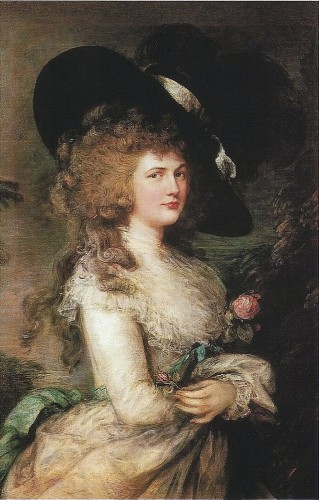 Here we have Georgiana Cavendish, Duchess of Devonshire, in 1787, who was quite the trendsetter of her day. This portrait is by Thomas Gainsborough, so the hat she is jauntily wearing came to be known as the "Gainsborough hat."
It's All About That Braid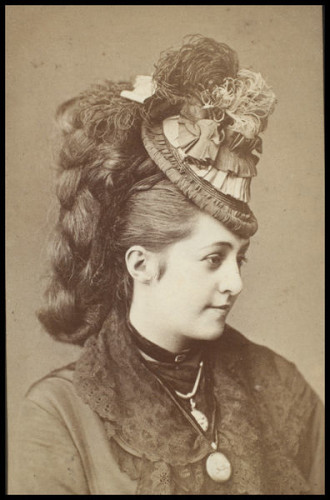 This is actress Marie de Grey in a cabinet card from the 1870s. (Think of cabinet cards as those school portraits you used to exchange with friends. Collectors Weekly has a good write-up on them.)
That big braid doesn't look real, and I think its only purpose is to prop up the hat.
Photo by Elliott & Fry
Put a Bird on It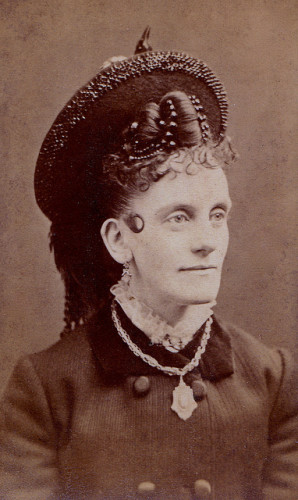 We're in 1875 now. Yes, the hair is amazing with the intricate pinning and the curlicues.
But the bird peeking out over top her hat takes the cake.
Photo by Chas. D. Holmes
Distinguished Lady, Ridiculous Hat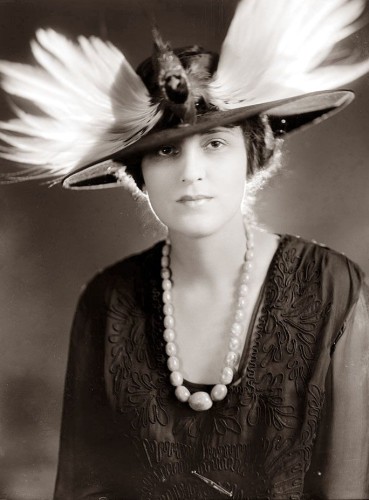 How this woman, circa 1900, can keep a straight face with a flying bird of paradise on her head is beyond me.
Until I noticed multiple bird-centric hats putting this post together, I had no idea that bird hats were once a trend. In fact, the trend was so substantial that The Audubon Society was created in response to it, which was the first organized conservation effort.
Mysterious Lady with an Upside-Down Basket Hat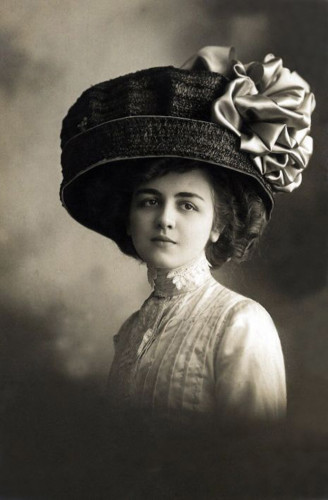 This undated photo comes from an exhibit on the Art Nouveau movement — a period from 1890–1910 — at the Decorative Arts and Design Museum in Latvia. From the size of the hat, I'd guess this is Edwardian times, which is the early 1900s. The Edwardians loved them some crazy giant hats.
Maybe when she wasn't sporting this on her head, she used it as a laundry basket?
I Just Don't Even Know
This is stage actress Irene King. Let's (safely) assume she's in costume here, though I wish I knew for what. She once played both Little Bo Beep and Red Riding Hood (solely in pantomime, evidently), but this getup has nothing to do with those roles. From what I can gather, this photo is circa 1907.
Got a guess for who she could be playing?
Interesting side note: This is a postcard, which was the next step after cabinet cards.
If you love this image, you can buy it on ebay.
Trend of the Decade: Giant Hats!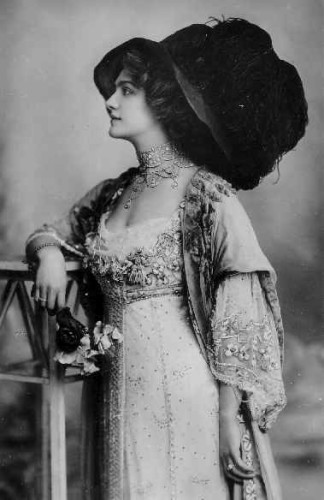 The theatrical production The Merry Widow made Lily Elsie, pictured, a star, and big plumed hats all the rage. This one looks like it's about to slide off her head.
Elsie is photographed here in 1907 in one of her costumes from the play, designed by Lucile, a noted designer of the time. The hats of Georgiana Cavendish were said to be the inspiration.
Lucile also made Elsie's wedding dress, which appeared in my piece on retro brides.
Here's a second photo of Lily Elsie.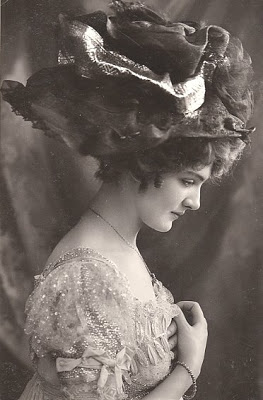 I wanted to share because: What the heck is that? Is it a hat? Chiffon winding its way through lots of hair? I can't tell.
Another Edwardian, Another Crazy Hat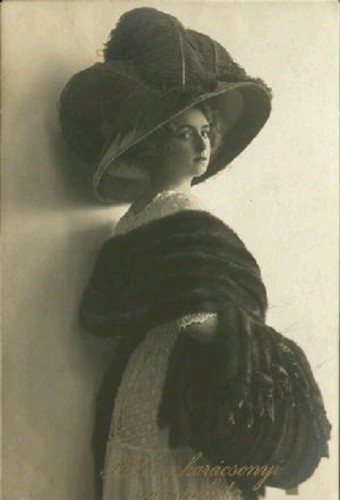 All I've got on this lady is she's Edwardian. And this is labeled a Merry Widow hat. That sounds about right.
Also: so many pelts! Sigh.
The World's Biggest Dandelion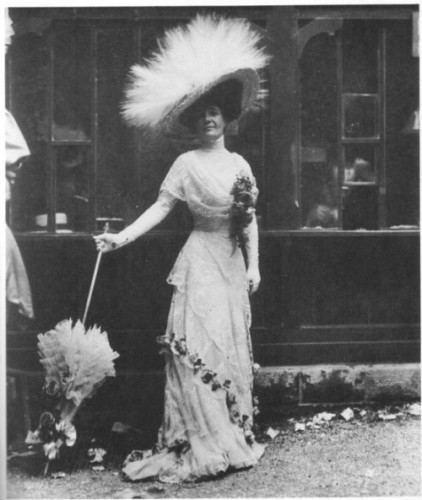 This photo is from 1909.
I have a lot of Edwardians because they knew how to do outrageous hats. Btw, more on Edwardians here — they're pretty interesting.
The hat is CRAZY, but her dress is quite lovely, imo.
Serious Plumage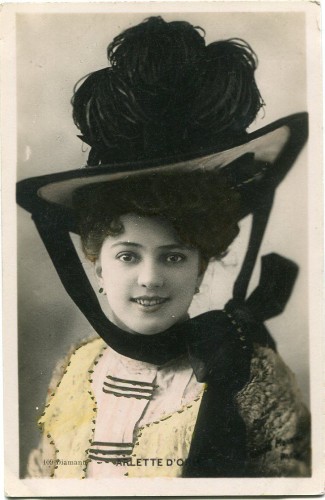 Pictured is French actress and dancer Arlette Dorgère, circa 1910. I believe it's a postcard.
That's a bunch of feathers on her hat, right? Looks like the Audubon Society had their work cut out for them.
Big and Not-So-Beautiful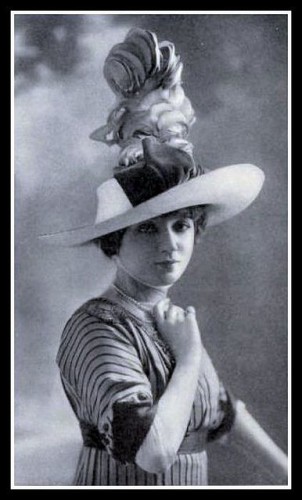 At first I thought this hat, photographed in 1912, looked like it was topped with Pepperidge Farms Brussels cookies. But I don't know, maybe that's a bird too? I've lost all perspective.
What do you think it is?
Btw, my husband has declared this his least favorite hat of the bunch.
There's a Lot Going On Here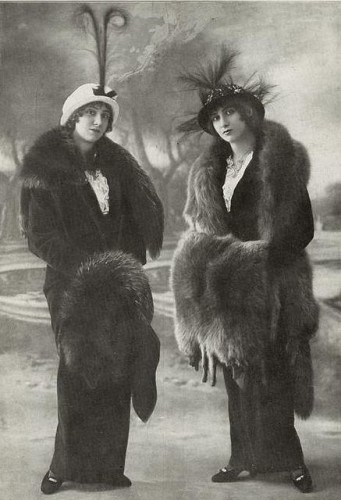 We have the wild feathered hats here, of course, but then, sadly, a pack of silver fox pelts as well in this 1913 photo.
The caption reads Mademoiselle Lillian Greuze, du Théâtre Sarah-Bernhardt. Greuze was a model and stage actress at the Sarah-Bernhardt Theater. At first, I was trying to identify the second lady, but then wondered if they were both Greuze. She's the only one mentioned in all captions I encountered, and check out the shoes, skirt and top. They're identical, right?
Photo courtesy New York Public Library collection.
Polka-Dots!!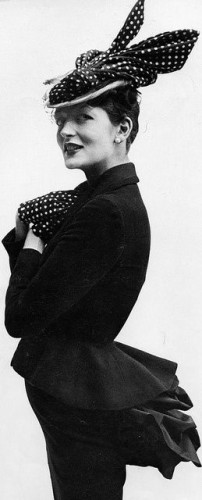 This is a 1948 photo of model Maxime de la Falaise in a suit and hat by Fath, according to Pinterest. (Alas, I tried to confirm elsewhere and could not.)
What her hat lacks in height it gains in polka-dots. And she's wearing matching polka-dot gloves! I am jealous.
Yes Please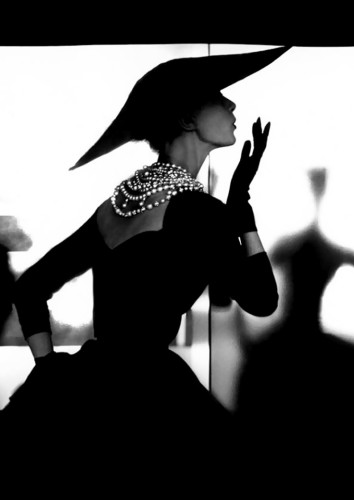 We got some high class classiness going on here. This is titled Barbara Mullens, Blowing Kisses. It was taken of actress Mullens by Lillian Bassman, who was the art director at Harper's Bazaar.
I want the whole outfit now please and thank you.
Photo courtesy Peter Fetterman Gallery
Which hat is your favorite?
See more retro fashion and accessories on my Pinterest board. And sign up for my soon-to-come monthly newsletter!
It's good etiquette to share what you like!